Above: Photos of Adul, posted on the Maesai Grace Church Facebook page.
By: Clare Bruce
The dramatic rescue of the 'Wild Boars' soccer boys from a flooded cave in Thailand hit close to home for the nation's Christian community, when they learned that one of the boys is a Christian who attends a local church in Chiang Rai.
14-year-old Adul (pronounced Adun) attends a Compassion child development project based at Maesai Grace Church, which has been supporting him since the age of seven, according to the Christian website Salt & Light.
The church is largely Burmese-speaking, and a number of its members are stateless refugees from Myanmar—including Adul and his parents.
Adul speaks five languages: English, Chinese, Burmese, Thai and Wa, the language of his ethnic minority, according to The Irish Times. He was the only boy out of the 13 soccer players able to speak English to the British divers who found them on July 2.
In a video released on Friday, the boys are seen sitting in their hospital beds where they are still recovering, smiling and expressing their thanks to their rescuers. Adul breaks into English, saying, "Hello, I am Adun. I am very thankful [you] helped me. Now I am very fine. Thank you so much.
Adul was in the second group of four boys brought out of the Luang Nang Non cave on Monday, July 9. He is said to be a model student, excellent in both sport and academics, with a loving spirit. Charity worker, Brendan Fox, who volunteered at the rescue site and often prayed with Adul's family throughout the ordeal, told Salt & Light that the 14-year-old is "a boy with great character and wisdom". "You hear everybody talk about how he just wants to give and love," he said.
A News Watch Journal interview on Facebook revealed that Adul hopes to grow up to be a doctor. And one of the many Thai pastors praying for the boys told Salt & Light, "We believe God used Adul to be involved in a significant way, by communicating in English to the rescue team."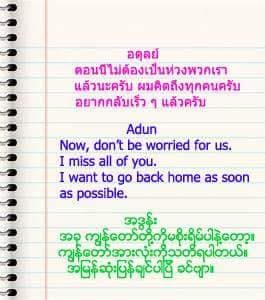 While the Wild Boars were trapped in the flooded Luang Nang Non cave, they pencilled notes to their families. Adul's note (pictured left) reassured his family, saying, "Now, don't be worried for us. I miss all of you. I want to go back home as soon as possible."
Adul isn't the only stateless Burmese refugee in the soccer team; so are a number of other players along with their coach, 25-year-old Ekapol Jantawong, orphaned when he was young. Ekapol was raised in a Buddhist monastery and is reported to have given all his food to the boys and led them in meditation while in the cave, to keep them calm and save energy.
Believers Around the World Pray for Soccer Team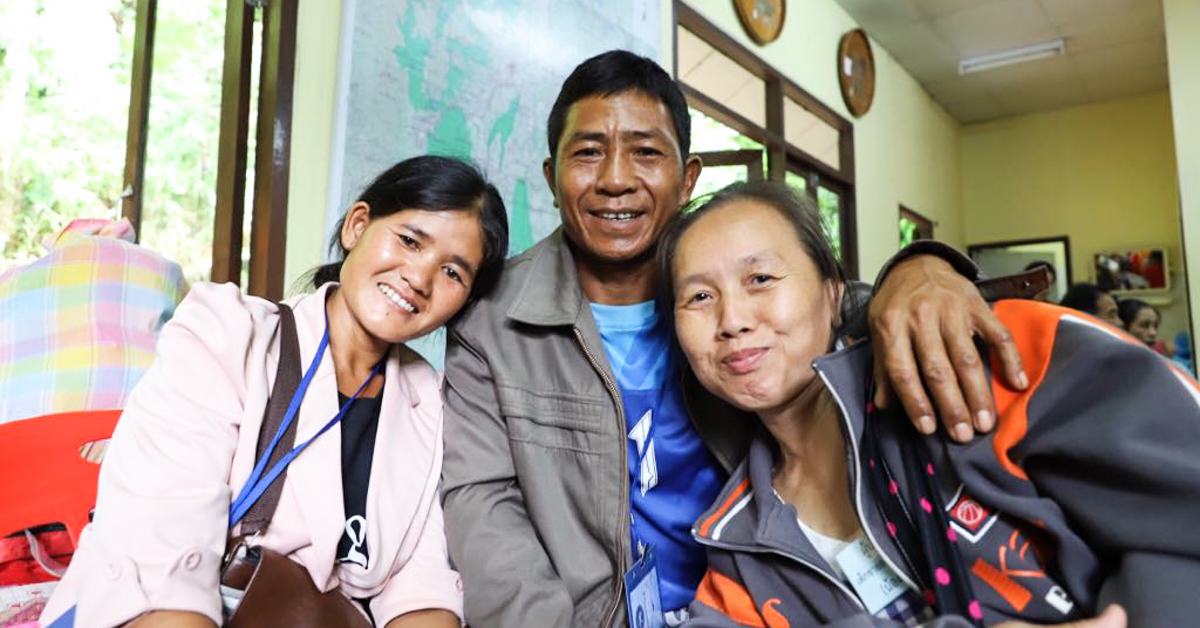 Once they knew one of the Wild Boars was one of their sponsored children, Compassion staff called on supporters around the world to pray for the boys' safe return.
Meanwhile, churches across Thailand were praying, too, along with the people of Maesai Grace Church themselves.
Adul's parents said in a Compassion video that they were thankful to God for answering their prayers.
"Thank you so much for all prayers and all the encouragement," his mother said. "Thank you to God. I'm really thankful that they found my son and all 13 are alive. I'm so happy and so thankful to see my son again. Thank you so much to everyone that [has] been praying for us and the boys and helping us.
"God is great love and there's nothing He can't do."
Adul's Compassion project director also expressed her thanks: "As Centre Director, I want to say thank you so much for all your prayers…I'm so thankful to God."
Compassion has close to 200 child development projects in Thailand and was involved in the cave rescue project by way of prayer, and providing food and shelter for members of the Air Force involved in the rescue.
Staff are now asking supporters to continue praying for the boys' health, and for nearby churches to be able to support their families and community after the international media attention and support has gone.
Compassion's work in Thailand began in 1970. Currently, more than 48,000 Thai children are registered in more than 180 child development centres across the country.
Article supplied with thanks to Hope Media.
About the Author: Clare Bruce is a digital journalist for the broadcast industry.